"Loyalty programs increase the amount of customer spend each time they visit, as they try to unlock rewards"
But the question is…
Whether you should choose Points-based loyalty program or Cashback loyalty program. That's what you'll be going to read in this blog.
According to a study by Harvard Business Review, Acquiring a new customer is anywhere from five to 25 times more expensive than retaining an existing one.
Your existing customers spend 67% more than any new customer.
59% of customers say they are ready to buy new product or service from a brand familiar to them
In a study, the business should pay attention to what they are doing to keep the right customers coming back
What is Customer Loyalty
Customer loyalty shows a customer willingness to visit a brand and purchase a product or service, again and again, it is a result of customer positive experience with the brand, customer satisfaction and the value they get on each transaction, customer loyalty program does perform this task for a business. There are a number of customer reward program using by business with a different purpose.
Why go for Customer Loyalty programs?
Loyalty programs are the ultimate way to gain customer loyalty. It a marketing approach to make your existing customer your repeat customers.
A) On a study, Customers who enrolled with your loyalty programs produce 12 to 18% more revenue than non-memberd customers.
B) As per Rosetta Consulting study, our highly engaged customer tend to buy 90% more and spend 67% more on each transaction.
C) According to Bain and Company, increasing customer retention by just 5% boosts profits by 25 to 95%.
Types of Loyalty programs
Since there are several kinds of successful loyalty programs, But here I am mentioned two types; Point-based reward program & Cashback Reward program.
Point-based loyalty program
Reward point system for customers accumulates points to that they can reclaim for rewards or get free products or service. Many loyalty programs offer points as a virtual currency to the customers, with an aim to feel customer rewarding.
In this, users receive points for knocking destined purchasing benchmarks that reward them with a lot of incentives, can include gift cards, coupon, digital rewards, goods, and services from the concern organisation.
Look at the Starbucks reward program –
In their Rewards program, each purchase makes a customer closer to get free drinks and food. To earn loyalty starts customers needs to order and pay using an application.
Now I am giving another Example of the loyalty program of a well-known E-commerce portal Myntra. They are running a Myntra insider as a Reward program for customers.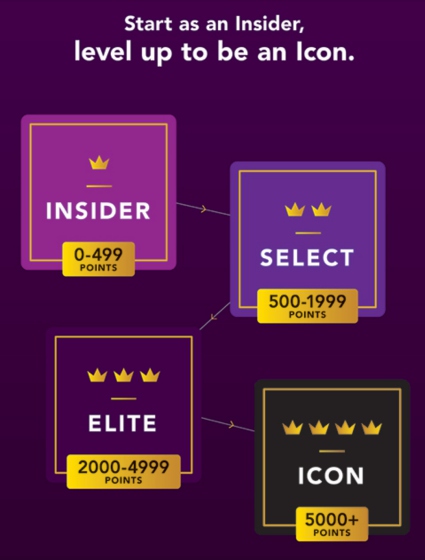 The Ultimate goal of loyalty programs is only one….What?
To push customers purchasing more & to keep them engaged with brands.
Cashback Loyalty program;Best alternatives of all discounts
Cashback loyalty program, a Reward program where a percentage of the amount spent is paid back to the customers. Suppose, a restaurateur started a restaurant loyalty program with a cashback reward, And the plans are following –
10% cashback on billing amount above 500
20% cashback on billing amount 1000,
40% cashback on billing amount 500, So on…
Travel Companies like make my trip. Goibibo do the same with Gocash+, they provide cashback as a reward to the customer to make their purchase worthy. There are several examples of innovative and Successful loyalty programs in India which include Starbucks rewards, paytm reward program,
What to choose Cashback Or Points?
Traditional reward point system for customers are truly Expired. Nowadays companies used cashback as a loyalty program to encourage more purchase from customers. Because…
Cashback rewards are more attractive for customers and it never confuses them, unlike point system.
It also gives a high customer retention rate.
In a study by National Banking, Opinion Shows "Cash Is King."
Cash is superior to other types of reward programs because it gives customer excess spending adaptability. They can use the digital cash for shopping, for recharge pay bills, purchase groceries and many more. Point rewards limit consumer for such transactions.
There are two types of E-wallets –
Closed Wallet
Open Wallet
A)
Closed Wallet is the wallets which are issued by a company to a consumer for buying
goods and services exclusively from that
Company.
Examples: – Goibibo, Clear trip,
Make My Trip.
This type of wallet is a payment instrument that is
redeemable of clearly identified merchants that
the contract specifically with the issuer to accept
the payment instrument.
Examples:- Paytm, Mobikwik, Freecharge
B)
Closed Wallet can be used – To receive
refunds for returns & receive cashback.
Require a prepaid amount to exist in the system that needs to be topped up when the money runs out.
Open wallet allow users to pay at many different locations from one-centralized digital wallet.
Open platforms are connected to a personal Debit / Credit card account.

C)

Customers can check their balances, add
money, and pay using a mobile no or
application rather than a
physical card.

Allow transfer money between user


D)

No transfer between users and No cashwithdrawal is possible

Allow Cash withdrawal of money to the linked bank ac.
Brand's need to have its own virtual wallet. Bingage is providing Close E-wallet system to business, where they can give cashback as rewards to customers directly into their virtual wallet,

Customer's don't need to carry Loyalty Card / Mobile App. Only Contact no is mandatory to use a virtual wallet.