Do you ever notice about those customers you have who made a purchase first time but never come back again?? If your answer is no then this article is definitely for you 🙂
Customer retention is important for a restaurant success but how to achieve it? If you want to increase repeat sales…first, you have to know "what are your customer expectations" otherwise Let's read how you can do this…
We have researched over 1 million reviews of online ordering platforms to know what are the problems that customers are facing. If you successfully solve this issue you will get success over customer retention.
A customer is the most important visitor on our premises, he is not dependent on us. We are dependent on him. He is not an interruption in our work, He is the purpose of it, He is not an outsider in our business. He is part of it. We are not doing him a favour by serving him. He is doing us a favour by giving us an opportunity to do so. ~ Mahatma Gandhi
Customer retention is vital because your repeat customers are your brand ambassadors, spread positive words about your business and bring business for you.
Now you know that repeat customers are more worthy than their first purchase, customer retention software helps with creating a rich customer database, planning and executing marketing campaigns and developing customer retention strategies.
Top 5 reason why your restaurant not getting Repeat sales
1. Poor Customer Service
Bad customer service is one the primary reason your customer not coming to your restaurant.
Customer service is just a day in, day out ongoing, never ending, unremitting, persevering, compassionate, type of activity. ~ Leon Gorman (forbes)
As the customer has many choices, thus not one compromise with poor service and return and never come back.
Customer feedback statistics –
Customer perception is your reality, this the age of customers, we are living in an era where the customer is a king and you have to give them services beyond the expectations.
Long waiting time also a factor which forces a customer to leave your restaurant, train your staff to manage the crowd and attend them carefully. Restaurant point of sale system eliminates long waiting time and improve efficiency.
2. Cheap Food Quality
When it comes to food quality, no one compromise, customers are ready to pay more with good quality food so always maintain the quality of your food if you want to keep long term relationship with customers and customer loyalty. Keep the following things in mind –
If a customer doesn't like your menu, they will not come back.
If you've kept them waited for a long time, they won't come back.
And if the food quality is bad and delivered food is cold, they won't return.
3. Cleanliness
Cleanliness is very important to diners. It is often considered one of the worst mistakes a restaurant can make. Now people are more concern about hygiene, so make sure you are offering hygienic food. Put the certificate from medical & sanitary inspection service at the entrance of your restaurant. this will make sure that is safe to eat in that restaurant.
Zomato has initiated Food Hygiene Ratings, According to zomato –
they ran a survey and found that 86% of customer would prefer dining at, or ordering in from restaurants that have transparent food hygiene standards. Moreover, 93% of users gave more weight to wanting to eat at/ order in from a hygienic place.
Thus maintaining food safety and hygiene standards in the restaurant are important to gain more repeat customers and get more new business.
4. Negative online reviews and word of mouth
Negative online reviews impact the buying decision of a person. If you lost one customer due to any of the reason, he will tell other customers as well. Negative publicity affects your existing customers, as well as a new customer thus dealing with negative online reviews, should be done carefully.
Unhappy customers talk, and then they talk some more. In the above situation, restaurant managers should try to address service failures quickly and with the patron to prevent the spread of negative advertising.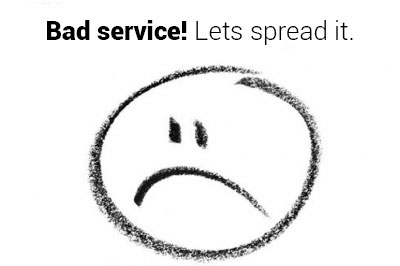 5. No Reason to Return
Generally, Restaurants do not pay attention to loyalty programs. Have you ever think to reward your customer in exchange for buying your product or services, have you give them a reason to return?
The goal of customer relationship management is to build long term relationship with the customer, once you get customer loyalty, it must be maintained timely. Restaurant loyalty program serves with rewarding customers with attractive discounts, cashback and cash vouchers.
Customer loyalty program increase customer retention, it makes them feel appreciated. Do you have a loyalty program?
If no then you are lacking with your competitors who may be getting more repeat purchase than you. Start a loyalty program for restaurant then You will have countless opportunities for rewarding your customers from a cashback reward program to special offers and privileged perks.
Conclusion –
A study found that 80% of future profit comes from 20% of repeat customers. Customer return and don't come back and the worse thing is restaurants do nothing to win lost customers back.
Customer retention is not that much tough, one can reduce customer churn& increase repeat sales by following things-
Introduce Customer loyalty program.
Encourage referrals by implementing a restaurant referral program.
Solve customer's issues or respond to negative reviews of the restaurant carefully before customer leave.
Make your customer feel that your care for them. Offer them best services.